Observing Earth from space can alter an astronauts' cosmic perspective, a mental shift known as the "Overview Effect." First coined by space writer Frank White in 1987, the Overview Effect is described as a feeling of awe for our home planet and a sense of responsibility for taking care of it.
See Earth from the vantage point of our astronauts in these perspective-changing views:
Floating Free in Space
Astronaut Bruce McCandless II used his hands to control his movement above the Earth during the first-ever spacewalk that didn't use restrictive tethers and umbilicals. Fellow crew members aboard the space shuttle Challenger captured this image on Feb. 7, 1984, through windows on the flight deck.
Of his famous spacewalk, McCandless wrote in 2015: "My wife [Bernice] was at mission control, and there was quite a bit of apprehension. I wanted to say something similar to Neil [Armstrong] when he landed on the moon, so I said, 'It may have been a small step for Neil, but it's a heck of a big leap for me.' That loosened the tension a bit."

Earth Reflections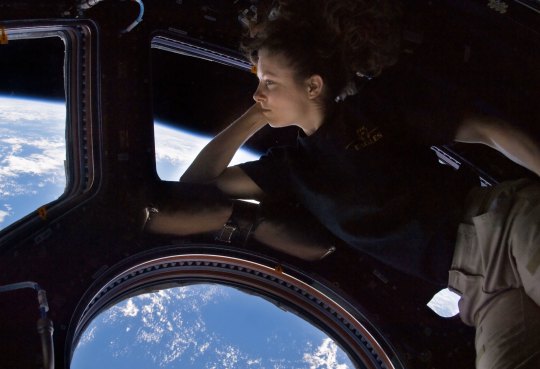 Astronaut Tracy Caldwell Dyson looks through a window in the Cupola of the International Space Station (ISS). A blue and white part of Earth and the blackness of space are visible through the windows. The image was a self-portrait using natural light.
In a preflight interview for Expedition 23/24, Dyson said: "hands down, the best part about it is being able to look at that view every day and during the time frame we'll be up there, hopefully, we'll have a big bay window and much more opportunity to observe this beautiful planet."

Taking in the View
As astronaut Nick Hague prepared to conclude his six-month stay aboard the ISS, he shared this photo saying: "Today is my last Monday living on this orbiting laboratory and I'm soaking up my final views. The @Space_Station is truly an engineering marvel. #MondayMotivation." 
He and Expedition 60 and Soyuz commander Alexey Ovchinin of the Russian space agency Roscosmos​ completed a 203-day mission, spanning 3,248 orbits of Earth, and a journey of 80.8 million miles.
Earthrise
On Dec. 24, 1968, Apollo 8 astronauts Frank Borman, Jim Lovell and Bill Anders became the first humans to witness the Earth rising above the Moon's surface. 
 Anders, photographing the Moon from the right-side window, caught sight of the view, and exclaimed: "Oh my God, look at that picture over there! There's the Earth comin' up. Wow, is that pretty!"
The Blue Marble
Besides Earthrise, the Blue Marble is probably the most famous image of Earth that NASA has produced. Taken by the Apollo 17 crew on their way to the Moon in 1972, the Blue Marble and other NASA imagery of Earth has been credited by some with helping to fuel the environmental movement.

For more information on the Overview Effect, check out this episode of Houston We Have a Podcast. 
Make sure to follow us on Tumblr for your regular dose of space: http://nasa.tumblr.com